About Us
Greeting from President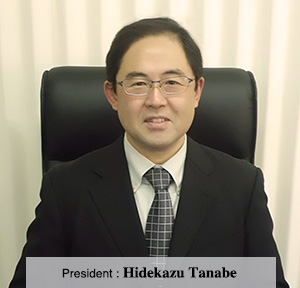 Company Overview
Name

INFLIDGE INDUSTRIAL.Ldd,.

Capital

32 million yen

Date founded

September 18, 1973

Board member

Hidekazu Tanabe, President

Head Office

5-9-7 Tsunashima-Higashi, Kohoku-ku, Yokohama,
Kanagawa 223-0052 Japan
TEL: +81-45-544-7531, Fax: +81-45-544-8310
Main Business Activities (line of products)
Super Air Heater (SEN series, MAX series, SAH series)
Automatic Temperature Adjuster (DAC-8D, DAC-84D)
Digital Flow Controller (DFC-10, DFC-100L)
Carbon Fiber Heater (CFH-290)
Line Heater (NIL series, GHH-1600)
Spot Heater (HSH series)
LCB-50 (Low cost beam heater)
BC Power (Controller for Halogen)
Optical Beam type Heating device (SBH-300A, 1000A series)
Ultraviolet Irradiation device (UVB-300/850/1800)
Metal Halide Beam Lighting device (MHB-400)
Solar Simulator (IN-1180, INB-300/500)
Major customers (In no particular order)
Olympus Corporation, OMRON Corporation, Canon Inc., TOYOTA MOTOR CORPORATION, NISSAN MOTOR CO.,LTD., CITIZEN WATCH CO.,LTD., Sharp Corporation, SEIKO EPSON CORPORATION, Seiko Instruments Inc., Sony Corporation, TDK Corporation, Mitsubishi Electric Corporation, TOSHIBA CORPORATION, Panasonic Corporation, DENSO CORPORATION, PIONEER CORPORATION, Hitachi, Ltd., Zojirushi Factory Japan Co., Ltd., TERUMO CORPORATION, MITSUMI ELECTRIC CO., LTD., AISIN SEIKI Co., Ltd., TAIYO YUDEN CO., LTD., Yazaki Parts Co., Ltd., ABB Ltd., The University of Tokyo, Tokyo Institute of Technology, Tohoku University
Access Map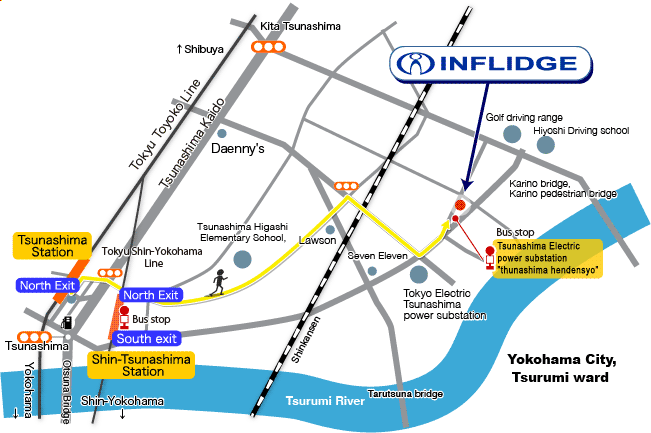 By Bus (Riding time: 7 minutes)
Get off at Tsunashima station (Tokyu Toyoko Line) and go through the north exit,
Get on the bus head for Hi 92 / Hiyoshi-eki Higashi-kuchi (Jyutaku-keiyu) at Bus station No. 5,
Get off at Tsunashima Hendensho (Tsunashima Electric power substation).
Proceed on foot by taking the road on the left when reaching the fork in the road.
Walking (18 minutes)
Tokyu Toyoko Line Tsunashima Station, North Exit (smaller ticket gate)
Turn right from the ticket gate to Tsunashima Kaido Street
Cross the street at the traffic light and go straight about 850 m along the road.
Turn right at the first traffic light after Lawson and proceed 290 m
Turn left at the traffic light near a substation and proceed 100 m
Take the left branch road at a bus stop Tsunashima Substation and proceed 80 m