Overview
Super air heaters supply hot air at a maximum temperature of 800 degrees Celsius.
Uses a special heating element (Kanthal wire) to increase temperatures at high efficiency within a short period of time. The compact design allows them to be attached neatly.
SEN-type built-in thermal sensors are used, which in combination with the thermostat enables the temperature to be controlled accurately.
This allows manufacturing conditions to be reproduced in a favorable manner.
Also, the built-in thermal sensor monitors the heating status, etc., which is useful for the circuits and work procedures set up by the customer for safety purposes.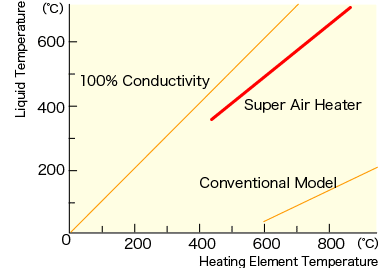 Advantages
High temperature
Long life
High-speed heating
Electricity-saving, energy-saving
Accurate control of temperature
Heating of localized areas possible
Use of nitrogen gas possible
Does not use flames, and emits no contaminants
Compact and lightweight
Special orders accepted (nozzle, heater capacity, dimensions, etc.)
Applications
Tip on soldering robots
Automatic soldering of electronic parts
Soldering of ceramic and glass substrates
Drying adhesive, ink and paint
Automation of small part and marking drying
Automation of resin bending and resin caulking
Burr removal for molded resin parts
Preheating electric cable conductors
Sealing for automatic vinyl packaging machines
Automatic adhesion for wire coils
For use with bga reworks and repairs
Soldering of solar battery panels
Drying and caulking backlights (ccfl) on LCD panels, etc.
Heat source for simple reflows, etc.
Heat source for bobbin coils and other wire coils

For use in attaching internal panels to car doors
Soldering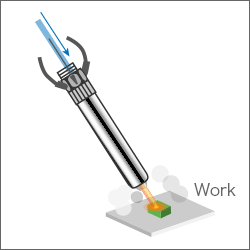 Spot Soldering
Enables micro-spot heating in accordance with the shape of the nozzle.
Minimizes the effects of heat on other parts.

Heat volume easily adjusted by changing the temperature and air flow.
Swift temperature increase to enable intermittent heating.
Soldering of flexible substrates and minute parts.
Heat Caulking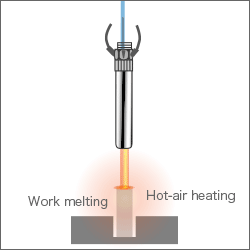 Preheating
Preheats micro-spots before they come into contact with the soldering iron to produce excellent soldering results while using minimal energy.
Localized heating so that other parts are not affected.
Glass Processing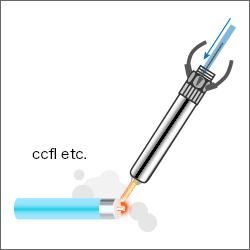 Glass Processing Preheating
Suitable for preheating localized areas that are to be processed with burners.
The heater can be turned on and off to minimize energy loss.
Chip-off preheating.
Enables micro-spots to be preheating evenly.
Shrink Tube Heating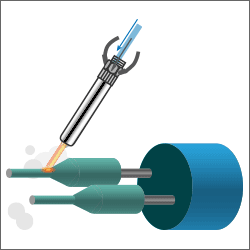 Heat-shrink Tube Heating
Suitable for heat-shrinking minute parts and wire clusters.
Enables the localized heating of tubes.
Cosmetic Finishing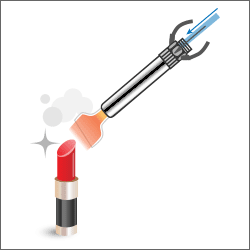 Cosmetic Finishing
Adds a gloss finish to cosmetics.
Heat volume easily adjusted.
Enables high-grade duplicated processing.
Enables clean, localized heating with air.
Usage